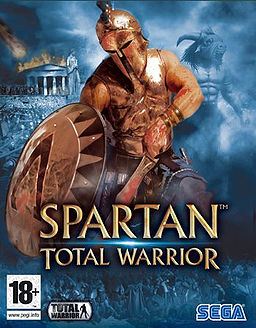 Welcome to the Wiki
Edit
Welcome to the Spartan: Total Warrior wiki. We're a collaborative community website about Spartan: Total Warrior that anyone, including you, can edit! You'll find all the information and news about the game here!
Spartan: Total Warrior
Edit
Spartan: Total Warrior is a spin-off hack and slash video game of the Total War series, developed by The Creative Assembly and published by Sega. It was released on Xbox, PlayStation 2 and GameCube. The game has fourteen levels, in which the player controls a lone Spartan warrior guided by Ares, fighting alongside his Greek allies against the invading Roman Empire.
While the Total War series has traditionally focused upon historical and legendary scenarios with each installment, Spartan: Total Warrior is more liberal in its approach to history, drawing elements from Greek and Roman mythology, and featuring many ahistorical elements (most obviously, the Roman Empire and the Spartan state did not exist at the same time in history). As such, it has more in common with games such as God of War than other Total Wars games. It is also the only installment in the series thus far to be released for the console market, rather than for PCs. The Creative Assembly was bought by Sega in 2005, making Spartan: Total Warrior the first Total War game published by Sega.